Posts for tag: dental implants
By Siwell Dental
March 22, 2017
Dental implants might be right for you if you are missing any teeth and want a permanent solution that doesn't require the use of
adhesives, as is the case with dentures. Dental implants are surgically installed and will not come loose and slip out of place. Once in place, installation is permanent. With proper care that includes good oral hygiene and regular dental checkups, your dental implants can last indefinitely. At Siwell Dental in Byram, MS, Dr. Quintin Todd Julius can determine if dental implants are right for you.
What are Dental Implants?
Dental implants act as artificial replacement teeth and roots. Each dental implant is made up of three separate parts. These are the implant, abutment and crown. The implant, made of hypoallergenic titanium, is drilled into the jaw bone; it functions as a root for the artificial tooth to be installed. The crown, usually made from porcelain, is the artificial tooth and is installed above the gums alongside the natural teeth. The abutment securely connects the crown and implant. After installation is complete, only the crown is visible.
Benefits of Dental Implants
There are several benefits associated with dental implants. In Byram, MS, dental implants can be installed by an experienced dentist so there is no need to visit a specialist. Other benefits of getting dental implants include:
Replacement of missing teeth
Restoration of normal tooth functions (biting and chewing)
Permanent installation
No risk of slipping out of place
Durable
Natural appearance
Easy to care for
Reduce strain on surrounding teeth
From replacement of missing teeth to the restoration of tooth functioning, dental implants serve both a cosmetic and functional purpose. Caring for them is as simple as brushing and flossing daily just as you do already. Maintaining these daily oral hygiene habits, along with regular dental checkups, will keep your dental implants strong so that they last a lifetime. To learn more about dental implants and whether they are right for you, schedule a consultation with Dr. Julius, your dentist for dental implants in Byram, MS. Call Siwell Dental at (601) 371-8634 to schedule your appointment.
By Siwell Dental
March 03, 2017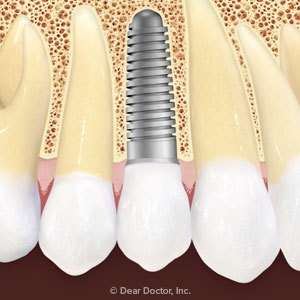 What's so special about dental implants — and why should you consider one to replace a missing tooth?
Although they've only been widely available for thirty years, dental implants have climbed to the top of tooth replacement choices as the premier restorative option. Since their debut in the 1980s, dentists have placed over 3 million implants.
There's one overriding reason for this popularity: in structure and form, dental implants are the closest replacement we have to a natural tooth. In fact, more than anything else an implant is a root replacement, the part of the tooth you don't see.
The artificial root is a titanium post surgically imbedded into the jaw bone. Later we can attach a porcelain crown to it that looks just like a visible tooth. This breakthrough design enables implants to handle the normal biting forces generated in the mouth for many years.
There's also an advantage in using titanium dental implants. Because bone cells have a special affinity to the metal, they will grow and attach to the implant over time. Not only does this strengthen the implant's hold within the jaw, the added growth also helps deter bone loss, a common problem with missing teeth.
It's this blend of strength and durability that gives implants the highest success rate for any tooth replacement option. Over 95% of implants placed attain the 10-year mark, and most will last for decades.
Dental implant treatment, however, may not be possible in every situation, particularly where significant bone loss has occurred. They're also relatively expensive, although more cost-effective than other options over the long term.
Even so, implants can play an effective and varied role in a dental restoration. While single implants with attached crowns are the most common type of replacement, they can also play a supporting role with other restorative options. As few as two strategically placed implants can provide a more secure connection for removable dentures or fixed bridges.
You'll need to first undergo a thorough dental examination to see if implants could work for you. From there, we'll be happy to discuss your options for using this "best of the best" restoration to achieve a new, beautiful smile.
If you would like more information on dental implants, please contact us or schedule an appointment for a consultation. You can also learn more about this topic by reading the Dear Doctor magazine article "Dental Implants 101."
By Siwell Dental
February 01, 2017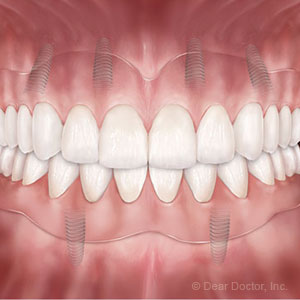 Not long ago, the most affordable option for total tooth loss was a removable denture. Dentures, prosthetic (false) teeth set in gum-colored acrylic plastic bases, can effectively restore function and appearance. But the appliance continues to have one major drawback: it can accelerate bone loss in the jaw.
Like other living tissues, older bone cells die and become absorbed into the body (resorption). Normally they're replaced by newer cells. The forces generated when we chew our food travel through the teeth to stimulate this new growth. This stimulus ends when we lose our teeth, and so cell replacement can slow to an abnormal rate. Eventually, this causes bone loss.
Removable dentures can't provide this stimulation. In fact, the pressure generated as they compress the gums' bony ridges can even accelerate bone loss. That's why over time a denture's fit can become loose and uncomfortable — the bone has shrunk and no longer matches the contours of the dentures.
In recent years, though, a new development has been able to provide greater support to dentures while at the same time slowing or even stopping bone loss. We can now support dentures with dental implants.
Implants are best known as individual tooth replacements: a titanium metal post replaces the root, while a life-like porcelain crown attaches to the post to replace the visible tooth. In addition to providing a longer-lasting alternative to removable dentures, implants provide a very important health benefit: they improve bone density because they mimic the function of natural teeth. Bone cells are naturally attracted to the titanium; they adhere to the titanium post and are stimulated to grow through the action of chewing, increasing bone density and securing the implant's hold in the jaw.
Using the same technology we can support removable dentures, or even full fixed bridges. Rather than rest directly on the bony ridges, a denture can make a secure connection through a coupling system with just a few strategically placed implants. We can also permanently attach a full bridge by fastening it to a few implants with screws.
Not only do we eliminate the pressure from dentures compressing the gums and bone tissue, we can actually stimulate bone growth with the implants. Although more costly upfront than traditional dentures, unlike traditional dentures which must be replaced every five to seven years, long-lasting implants may be more cost-effective over the long-run.
If you would like more information on implant-supported tooth replacement, please contact us or schedule an appointment for a consultation. You can also learn more about this topic by reading the Dear Doctor magazine article "New Teeth in One Day."