Posts for tag: braces
By Siwell Dental
March 11, 2019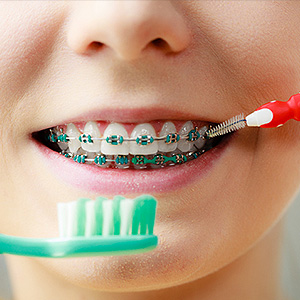 Wearing braces will probably never make your list of Most Pleasurable Life Experiences: you'll have to avoid certain foods and habits, endure some occasional discomfort, and perhaps feel some embarrassment about your appearance. The good news, though, is that at worst, these are mostly no more than inconveniences and additionally they're well worth the straighter, more attractive smile you'll achieve.
But there's one downside to braces that can lead to something more serious. The braces hardware makes brushing and flossing more difficult—and that could increase your risk of dental disease.
The principal goal of oral hygiene is to remove dental plaque, a thin film of accumulated bacteria and food particles that can cause tooth decay or periodontal (gum) disease. Without effective brushing and flossing, plaque can build up quickly and make the chances of having either of these two diseases more likely.
Not only does the braces hardware hinder your toothbrush's or floss's access to the parts of the teeth it covers, but it can also create "hiding places" for plaque build-up. Several studies have found that braces wearers on average have up to two to three times the plaque build-up of non-braces wearers.
There are ways, though, to make hygiene easier while wearing braces, particularly with flossing. Floss threaders or interproximal brushes can both be used to access between teeth while wearing braces. Another option is a water flosser or irrigator that sprays pressurized water between teeth (and beneath brackets and wires) to remove plaque. And braces wearers can get a prevention boost with topical fluoride applications or antibacterial mouth rinses to reduce disease-causing bacteria.
Besides taking a little extra time with brushing and flossing, you can also boost your mouth's health with good nutrition choices, less sugar consumption and keeping up regular dental visits. And, you should also see your dentist promptly if you notice any signs of tooth or gum problems—the sooner you have it checked and treated, the less damage any dental disease is likely to cause.
It's not easy keeping your teeth and gums plaque-free while wearing braces. But with a little extra time and effort, a few helpful tools and your dentist's support, you can maintain a healthy mouth during orthodontic treatment.
If you would like more information on best hygiene practices while wearing braces, please contact us or schedule an appointment for a consultation. You can also learn more about this topic by reading the Dear Doctor magazine article "Caring for Teeth during Orthodontic Treatment."
By Siwell Dental
October 31, 2018
Now in your adult years, you feel you've functioned pretty well even with a few misaligned teeth. You may also think having them straightened at this point may not be worth the effort and expense.
But there are solid reasons — beyond, of course, the psychological and social benefits gained from a new smile — why straightening teeth even as an adult can be a wise investment. Orthodontics not only enhances your appearance but may also improve your long-term oral health.
Restores proper oral function. Teeth that are aligned properly will tend to function properly. Although you can still chew, speak and smile with teeth that aren't quite aligned properly, over time you'll put more stress on both the teeth and the jaws, which could lead to more wear than what normally occurs with aging. By re-aligning teeth to a more normal position you could be extending the life of your teeth and reducing your risk of other functional problems.
Reduces the risk of periodontal (gum) disease. Some people with misaligned teeth are more susceptible to periodontal disease. Besides difficulties with bacterial plaque removal (a must to avoid gum disease), a person with misaligned teeth can also encounter more defects involving bone and gum tissues like gum recession that can contribute to the progression of gum disease. By straightening teeth (and performing plastic periodontal surgery if needed), we can reduce this risk dramatically — as long as we're performing periodontal treatment for existing gum disease before and during orthodontics.
Facilitates tooth replacement. When we lose a tooth, the mouth's natural mechanism is to move remaining teeth to fill the void left by the lost tooth. This can make it difficult to position a dental implant or similar tooth replacement in a functional and aesthetically appealing way. By applying orthodontics to move drifting teeth back into their proper place, we restore the best condition for achieving success with a tooth replacement.
The best way to know how much you could benefit from orthodontic treatment is to visit us for a full dental evaluation. From there, we can help you decide if treatment for straightening misaligned teeth is right for you.
If you would like more information on orthodontic treatment, please contact us or schedule an appointment for a consultation. You can also learn more about this topic by reading the Dear Doctor magazine article "Why Straighten Teeth."
By Siwell Dental
February 28, 2018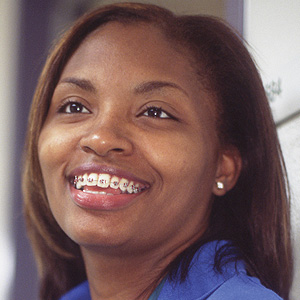 You've had crooked teeth since you could remember. Perhaps you and your parents talked about braces when you were a teenager, but it never happened. Now you're well into your adult years and you're comfortable with how you look — so why go through the expense and time now to have them straightened?
There's a good reason to consider orthodontics at any age — improved health. While we mainly associate teeth straightness with an improved smile, the more serious impact of misaligned teeth is on function — how we bite, chew and speak. As with many other areas of life, good form usually makes for good function. When we have crooked teeth, we may not be able to chew our food properly or speak as well as we could if our teeth were aligned properly.
Misaligned bites (malocclusions) can also have an impact on individual tooth health. Because they don't interact efficiently with their opposing counterparts during chewing or biting, teeth can become loose or migrate further out of alignment.
While improvement in oral health is the primary reason for considering treatment for a malocclusion, don't discount the benefit of orthodontics to your appearance. Your smile impacts many aspects of your life, including career and social relationships. A straighter, more attractive smile could also boost your self-confidence: even if you think you've grown accustomed to your smile, straightening your teeth could vastly change how you view yourself and how you believe others view you.
And if you're dreading the look and feel of metal braces, orthodontic treatments have made giant strides in the last few decades. Clear aligners, for example, are much less noticeable than traditional fixed braces (and can be removed for special occasions), but still effective for moving teeth. There's never been a better time to consider straightening your teeth — and change the course of your health and your life.
If you would like more information on orthodontics for adults, please contact us or schedule an appointment for a consultation. You can also learn more about this topic by reading the Dear Doctor magazine article "Why Straighten Teeth."